If your website needs more buzz, more hits and more links, this is the service for you! The VodaHits Forum Backlinks Service is an incredibly valuable technique that's great for getting your website indexed fast, dramatically boosting your website's search engine ranking while also improving your link building campaign.
"Um, What Exactly Is Forum Link Building and why should I choose it?"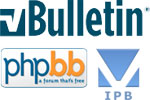 The VodaHits Forum backlink service is an effective SEO technique that sees us creating profile in Internet Forums on your behalf. Each and every forum profile we create will contain a signature that, in turn, contains links which point back to your website. The really great thing is that all these links become valuable backlinks to your website for the Googlebot and friends to follow!
There are thousands of Internet forums out there with a wide range of topics and each is a rich source of fresh content, online discussions as well as the shared information and knowledge which the Search Engines just love to see.
We will use only appropriate and relevant forums to create profiles and this means the links created can be done so from a relevant neighborhood and using only your keywords as relevant anchor text. Remember, relevant links are what the search engines love to see best of all!
| | | | |
| --- | --- | --- | --- |
| Package | Duration | Price | Order |
| 1000 Forum Backlinks |  6 Days | US$87 | 1000 |
| 2000 Forum Backlinks |  7 Days | US$137 | 2000 |
| 3000 Forum Backlinks |  8 Days | US$197 | 3000 |
Special Bonus!
VodaHits will add your Forum Profile URLs to our RSS Blast service and will ping all the URLs of your Forum Profiles across 100 ping sites indefinitely until they have been 100% crawled by Google's Googlebot!
Key Features
We only use Forums that use the "DoFollow" attribute so you can be sure of getting a valuable link from each profile.
The forums we use for posting have a PageRank of 5 to a PageRank of 2 so that you get really potent link juice.
Your profiles will be created by a team of experienced expert Forum Link Builders as well as highly experienced writers.
There is no need to exchange reciprocal links with any third party website.
We will create links in the signature of each profile and only use appropriate anchor text.
You will get your choice of link URL and Deep linking (to pages other than your home page) is available to you.
You will of course be issued with a detailed report of each and every submission we make towards your work order.
All our forum link building packages are highly effective and also highly affordable.
Our delicate choice of forums for posting means that your links are only seen in "safe neighborhoods".
As always, we provide highly reliable support to all our customers; any and all of your concerns and queries will always be addressed within 24 hours.

Do you ever spam forums?
No, absolutely not. Never. We do not and will never spam forums to get backlinks for your website and we always follow Google guidelines to the letter. You can feel absolutely safe with our forum link building service.
Will the links to my website come from "NoFollow" sites or "DoFollow" sites?
We guarantee links from "DoFollow" sites. All the forum pages from which we get your links must be indexed and they must only be from high quality forums.
Does your Forum Link Building Service approximate a link growth pattern that is natural?
Yes, certainly! We have designed our link building campaign specifically to ensure that it looks natural to Google as well as to all the other search engines!
Do you meet all your deadlines and are your forum link building services always prompt?
Yes. Your forum link building projects will always be completed on time, we guarantee it!
When I contract your forum link building service, will I always be able to expect reliable customer service?
Yes, always. We take great pride in our customer support. You will get complete support with any questions or problems you may have with our forum link building service. We offer high quality customer support that will get all your questions answered fast!