The VodaHits Blog Backlinks service is a highly effective and powerful link building strategy. It aims to drive massive traffic to your website, greatly improve your site's Search Engine rankings and represents a fantastic solution to your need to build ever more links back to your website.
"What is the VodaHits Blog Backlinks Service and why should I use it?"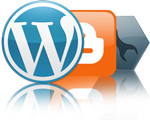 On your behalf, the VodaHits Blog Backlinks Service posts comments, each containing a link to your website, on various blogs throughout the Internet. It's part of an initiative to create vital backlinks to your website. VodaHits' blog comments are only placed in places they will be seen by the Search Engines i.e. only on Blogs using the "DoFollow" attribute and only using the keywords you select as anchor text (i.e. the relevant keywords which contain your link).
VodaHits excels at this service; we'll never spam any of the blogs we post to, neither will we post direct marketing messages as such blog comments are generally not approved by blog moderators. No special software is ever used in our blog backlinks service; it's all done 100% manually by some of the Web's top SEO experts.
It's all about pandering to the Googlebot's insatiable desire to see more links back to your website. The more links you can get back to your website, the better the Googlebot likes your website and the higher up the Search Engine Results Pages it will appear. The VodaHits blog commenting service gives you an incredible opportunity to increase the exposure of your website and drive a considerable amount of traffic to your site's pages.
| | | | |
| --- | --- | --- | --- |
| Package | Duration | Price | Order |
| 1000 Blog Backlinks |  3 Days | US$97 | 1000 |
| 2000 Blog Backlinks |  4 Days | US$147 | 2000 |
| 3000 Blog Backlinks |  5 Days | US$197 | 3000 |
Special Bonus!
VodaHits will add the URLs of your Blog Comments to our RSS Blast service and will ping all the URLs of your Blog Comments across 100 ping sites indefinitely until they have been 100% crawled by Google's Googlebot!
Key Features
We offer highly flexible blog commenting packages with a choice of 1000, 2000 or 3000 blog comments.
You'll choose the keywords that will be used as the all important anchor text.
There's no need to exchange links with any third party blog or website. Your website will only get one-way, permanent, text links.
Our blog commenting service will create deep links (i.e. links to places other than your home page) if you require them…
To ensure that all the links created by our blog commenting service are tracked by the search engines, many comments are posted in blogs with the DoFollow attribute.
We will never ever spam the blogs that we post comments on. The comments we post will always be relevant to the blog posts in the blogs we have chosen to submit to.
We only use well established blogs and we do not use new blogs that will not even be indexed by the search engines.

Will VodaHits just make blog commenting submissions or will the Blog comments actually be approved?
We can assure you that 100% of your submitted blog comments will be approved and we will provide you with a complete report to that effect.
Who will write the comments? Do I need to send you the comments?
We have a team of highly experienced and professional writers who will write the comments. Our blog commenting team has sound knowledge of blog commenting for SEO.
Do the blogs in which the comments will be posted belong to specific niches or are they general blogs?
We post your comments to general blogs and all the blogs we post to will have a high home-page PageRank.
Do you use DoFollow blogs? Will each and every one of my links be indexed?
We use a mix of do-follow and nofollow blogs though each link will add value to your website.
What is the PageRank range of the blogs to which you will post comments?
The PageRank range of the blogs that we use for blog commenting starts from homepage PR2 to homepage PR5.
How many comments do you post per page?
We make 1 post per page.
How many anchor texts can I use?
We allow up to 3 anchor texts.